Handmade - With love - Vegan Friendly - Non GMO -
Handmade - With love - Vegan Friendly - Non GMO -
Handmade - With love - Vegan Friendly - Non GMO -
Handmade - With love - Vegan Friendly - Non GMO -
Handmade - With love - Vegan Friendly - Non GMO -
Handmade - With love - Vegan Friendly - Non GMO -
Unleash Your
Snacking Joy
Experience the perfect blend of sweet and salty in each bite - plump Medjool dates, decadent Belgian dark chocolate, and crunchy salted peanuts. It's a snack that satisfies your cravings and boosts your energy.

Grab your pouch today and savor the delicious fusion!
Shop Now
Dorrel Sweets
Our story begins with simplicity: Fruits, nuts, and chocolate. We believe that the most luxurious and rich flavors can be found in these three nature's delights. We combine them and wrap them up with goodness for your enjoyment!
Learn More
Simply Delicious
Indulge in pure delight with Dorrel's Belgian Dark Chocolate Covered Medjool Dates, each uniquely stuffed for a burst of flavor.

Shop Now
Sarah W.
Dorrel Sweets has completely transformed my snacking game! I've always been a fan of chocolate-covered nuts, but their unique twist of stuffing raw peanuts with Medjool dates and then wrapping them in dark chocolate is pure genius. It's the perfect blend of sweet and savory, making it my go-to everyday snack. Plus, the quality of their ingredients is top-notch. I can't recommend Dorrel Sweets enough!
James M.
I stumbled upon Dorrel Sweets a few months ago, and I haven't been able to stop munching on their treats since then. Their chocolate-covered nuts are a delightful indulgence, but what sets them apart are those peanut and Medjool date creations! They're the perfect size for a quick energy boost during a busy day. The rich dark chocolate just melts in your mouth, and the sweet dates complement the crunchy peanuts beautifully. I'm hooked!
Emily R.
Dorrel Sweets is a game-changer for anyone who loves combining healthy snacking with a touch of decadence. I've always struggled to find snacks that are both delicious and nutritious, but their chocolate-covered nuts and date-stuffed peanuts hit the mark perfectly. The Medjool dates add a natural sweetness that balances out the dark chocolate, and the nuts give it a satisfying crunch. It's a guilt-free pleasure that I look forward to every day.
Michael H.
Dorrel Sweets has become a staple in my pantry. Their chocolate-covered nuts are a luxurious treat, and the date-stuffed peanuts are like little bites of heaven. I appreciate the attention to detail in the quality of their ingredients, and it's evident in every bite. These snacks are not just delicious; they also make for an elegant gift for friends and family. I highly recommend Dorrel Sweets to anyone who wants to elevate their snacking experience.
Choosing a selection results in a full page refresh.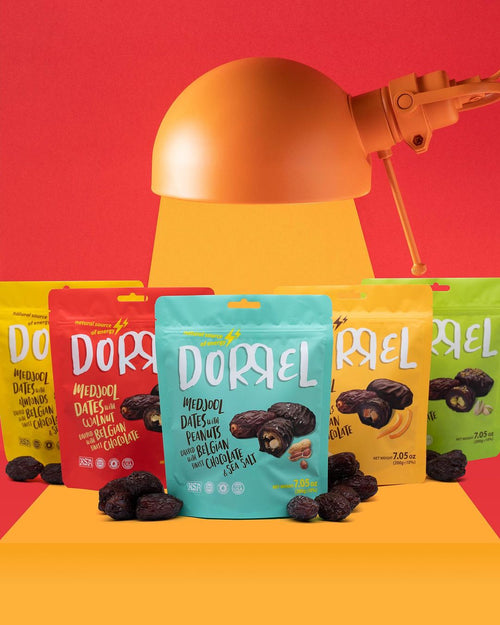 SUBSCRIBE FOR EXCLUSIVE DORREL DEALS AND UPDATES